You need not wait for any festival or celebration to clean up your home. It is a thing that you ought to do by yourself regularly. After all, as they say, "East or west, home is the best". Your home is the most comfortable place for you on the planet, so why let it go dirty? The easiest way to clean the home in today's busy lifestyle is by booking professional home cleaning services from the experts like HiCare.
Why Book Full Home Cleaning Services?
There are multiple benefits to enjoy with full home cleaning services provided you book them from experienced companies like HiCare.
Trained professionals leave your home sparkling as new
No worries to arrange for home cleaning tools
No worries to learn different methods of home cleaning
Saves time in cleaning the home by self
Saves money spent on different home cleaning solutions and tools
Step-by-step deep cleaning procedure with a professional approach
Why should you Choose HiCare for a Full Home Cleaning Service?
The moment you will search online for home cleaning services near me, the first name to pop up on your screen will be of HiCare. Trust HiCare for thorough home deep cleaning services for the following reasons:
India's leading digital hygiene company
28 years of experience
Present across 30 Indian cities and still expanding
Verified and trained employees
Satisfied clients showering 9/10 customer ratings
Served over 1 lac happy homes and over 25,000 businesses all across the country
Warranty backed services
100% secure and trusted payment protection
Boasts of premium clientele like Burger King, Amazon, Tata Consultancy, StarBucks, Google, Oracle, Hewlett Packard, EuroKids, Metro Cash, Cloud Nine, Citibank, Apollo Hospitals, Taj Hotels, Big Bazaar, The Parliament House, The International Airports at Pune, Bengaluru, and Hyderabad, and so on
Types of Full Home Cleaning Services provided by HiCare
Type of Full Home Cleaning Services
Service Details
1. Deep Cleaning

Dry Dusting/ Vacuuming of all rooms
Wet Vacuuming for Drying
External Removal of dirt and Grime
One Time Single Visit
Manpower – 1 Per Service
Service Duration – 6 to 7 hours

2. Intensive Cleaning

Wet Wiping/ Vacuuming of All Rooms
Internal Removal of Dirt and Grime
Wet Vacuuming for Drying
Manpower – 1 Per Service
Service Duration – 8 to 9 hours
How Does the HiCare Team Work?
The trained hygiene experts of HiCare follow a three-step procedure for a full home cleaning service that includes:
Step 1: Dry Dusting/ Vacuuming: HiCare's full home cleaning service begins with dry dusting or vacuuming of the ceilings, walls, and furniture inside the home
Step 2: External Cleaning: The second step involved in a full home cleaning service is external wet wiping of the furniture, glasses, windows, and cabinets. It also includes scrubbing the floor

 

Step 3: Wet Vacuuming: The last step is wet vacuuming to extract moisture left behind after external cleaning of the home and its structures

 
What is the Duration of a Full Home Cleaning Service?
If you choose HiCare for a deep home cleaning service, then expect it to last for 6 to 7 hours. It is a single one-time service plan offered by HiCare that will take a couple of hours depending on the home structure and area.
What is the Cost of a Full Home Cleaning Service?
You need not worry much about the pricing of a full home cleaning service. Companies like HiCare, are into the business of digital hygiene for 28 years and offer you affordable deep home cleaning services. The cost of such a service depends on the area to be cleaned and the home structure.
Terms and Conditions of HiCare Full Home Cleaning Services
Customers are requested to provide the HiCare team with a ladder, water, and electric connection
HiCare team will not move any heavy furniture, it has to be done by the client
Customers are advised to lock their valuables during the service
Full home cleaning doesn't include cleaning the inaccessible areas of the home
Kitchen and bedroom cupboards will be cleaned only externally
HiCare team doesn't guarantee the removal of hard or old stains, but they will try to remove them to the best of their ability without causing any damage to the surface
How to Book HiCare Full Home Cleaning Services?
To book HiCare Full Home Cleaning Services follow these steps:
Fill in your pin code in the prompt on the website
Scroll through the drop-down menu of 'Home Cleaning Services'
Choose the 'Full Home Cleaning' option
Fill out the Online Booking Form
Choose the 'Book Now' or 'Callback' Option as per your desire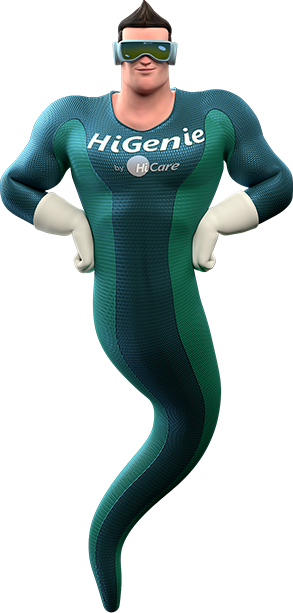 Professionals offer deep home cleaning services with the following things:

1. Isopropyl alcohol
2. Cleaning sponge
3. Distilled white vinegar
4. Microfiber cloth
5. Vacuum cleaner
6. Scrub brush
7. Squeegee



Yes, you may try deep cleaning at home but chances are rare that you will get similar results as shown after professional home cleaning services. You will end up wasting a lot of time but will have less satisfactory results in comparison to professional full home cleaning services.


Prepare your house for a deep cleaning service by:

1. Decluttering the useless things
2. Keeping your pets at a neighbor's house
3. Securing the fragile items
4. Locking your valuables
5. Storing your food items properly



Deep home cleaning, as the name suggests means a thorough cleaning of the entire home. It should take 6 to 7 hours. If you hire the trained HiCare team, you can expect the best deep home cleaning within 7 hours or more depending on the home structure.


Home cleaning is a hectic thing, so it won't be possible to indulge in this activity by yourself daily. It is better to book professional full home cleaning services from the experts like HiCare every 2 to 3 months.


Yes, HiCare hygiene experts know the secrets of leaving your home sparkling and disinfected after a full home cleaning service. They will conduct the service in a step-by-step procedure that includes dry dusting, external cleaning, and wet vacuuming. The full home cleaning service offered by HiCare is value for money.