Indulging in regular fridge cleaning is essential to store food in it that stays fresh for hours. So, how to clean the fridge? Although cleaning a refrigerator is not rocket science, in today's busy lifestyle, do you have that much time to deep clean the refrigerator? Why not hire professional fridge cleaning services from the experts like HiCare?
Why Book Fridge Cleaning Services?
Cleaning the refrigerator from the outside is a simple affair, but it is equally time-consuming when it comes to cleaning the interiors of the refrigerator. You need to remove all the food stored and refrigerator accessories for a fridge deep cleaning and that may take a lot of time and effort, and often won't give the desired results too.
You can enjoy the following advantages by booking a professional refrigerator cleaning service:
Saves time that can be used in other important activities
Saves money by preventing damage to your refrigerator
Extends the life of your refrigerator with a proper deep cleaning
Removes stains and odors inside the fridge
Promotes hygiene inside the fridge
Detects pests, mold, and bacteria growth on time and makes way for effective pest control
No worries to search for DIYs about how to clean the refrigerator inside
Complete peace of mind by ensuring your fridge is clean inside and outside and totally hygienic to store food
Why should you Choose Hi Fridge for a Fridge Cleaning Service?
We bet when you search online for fridge cleaning services near me, you will see HiCare's name in the top search results. It is because the company boasts of a rich legacy of 28 years in digital hygiene.
Choose HiCare to deep clean your refrigerator for the following reasons:
India's leading digital hygiene company
28 years of experience
Present across 30 Indian cities and still expanding
Verified and trained employees
Satisfied clients showering 9/10 customer ratings
Served over 1 lac happy homes and over 25,000 businesses all across the country
Warranty backed services
100% secure and trusted payment protection
Boasts of premium clientele like Burger King, Amazon, Tata Consultancy, StarBucks, Google, Oracle, Hewlett Packard, EuroKids, Metro Cash, Cloud Nine, Citibank, Apollo Hospitals, Taj Hotels, Big Bazaar, The Parliament House, The International Airports at Pune, Bengaluru, and Hyderabad, and so on
How Does the HiCare Team Work?
The trained hygiene experts of HiCare are skilled enough to provide you with all types of home cleaning services and fridge cleaning is one of the prime services the company offers. For a refrigerator deep cleaning, the HiCare team follows these steps:
Step 1 : External Cleaning : First the HiCare team will dry dust the external sides and wipe all the exterior surfaces
Step 2 : Internal Cleaning : The second crucial step in a fridge deep cleaning service is the internal cleaning of shelves and trays using an effective cleaning solution
What is the Duration of a Fridge Cleaning Service?
The duration of a refrigerator deep cleaning service depends on the refrigerator's configuration. The HiCare team takes 2 to 3 hours to deep clean one fridge. They will ensure that the appliance is cleaned inside out without causing any damage to any of its parts.
What is the Cost of a Fridge Cleaning Service?
Spending money on a deep fridge cleaning service is worth it as it minimizes the chances of food contamination through your fridge. The cost of fridge cleaning depends on your fridge configuration and model. HiCare offers all types of home cleaning services including fridge deep cleaning services at very affordable pricing.
Terms and Conditions of HiCare Fridge Cleaning Services
Customers are advised to make an alternate arrangement for food storage during the fridge cleaning service
Customers must defrost the fridge before the cleaning to get the better cleaning results
Please provide the HiCare team with a good water supply, stool, or ladder to reach refrigerators that are beyond 6 feet high
Please do not restack the fridge immediately after the service, you may do so after 30 minutes
How to Book HiCare Fridge Cleaning Services?
To book HiCare Fridge Cleaning Services follow these steps:
Fill in your pin code in the prompt on the website
Scroll through the drop-down menu of 'Home Cleaning Services'
Choose the 'Fridge Cleaning' option and select your preferred steam sanitization service option
Fill out the Online Booking Form
Choose the 'Book Now' or 'Callback' Option as per your desire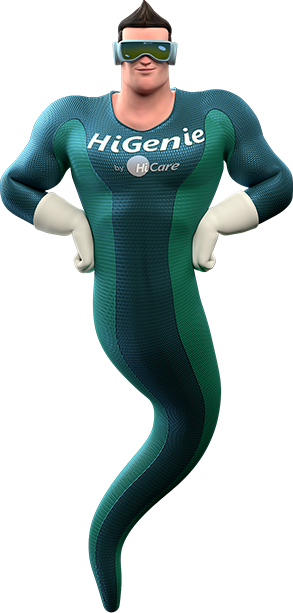 Follow these steps to clean your refrigerator from the inside:

1. Switch off the power connection of the fridge
2. Remove all the food stored in the fridge
3. Remove its removable trays
4. Apply a powerful cleaning solution like a mix of baking soda and vinegar inside the fridge
5. Wipe it off using a microfiber cloth or sponge


A foul odor or smell of something stinking is a common issue in a fridge. This problem of smell in a refrigerator can be resolved by placing a bowl of baking soda inside this appliance. Baking soda will absorb all the foul odor naturally from your fridge.


Refrigerators are one of the most frequently used appliances in anyone's home. According to experts you are advised to get your fridge deep cleaned by professionals every 3 to 4 months. It will help maintain the cooling and hygiene inside the fridge.


Skipping regular fridge cleaning will ultimately lead to food contamination and it will make you fall sick. Being a storehouse for your leftover food, the fridge is easy to attract bacteria like E.Coli, Salmonella, and Listeria. So, deep clean the refrigerator from time to time to prevent falling sick.


Yes, the trained hygiene experts of HiCare will clean your refrigerator with the best methods and cleaning solutions. They will follow a step-by-step procedure to clean your fridge and freezer leaving them shining as new.