Service Details 
Offerings: Inspection of the entire premise along with customer consultation 
Process 
Step 1 – Wet Wiping / Vacuuming of Walls, Ceilings & Furniture 
Step 2 – Externally Wet Wiping of Windows, Glasses, Furniture and Cabinets (Only if they have been emptied by the owner before the service begins) along with Scrubbing of the floor only (Side & Top walls not included) 
Step 3 – Wet Vacuuming to extract moisture 
Visits  
Duration : 8-9 hours (depending of the house configuration) 
Terms & Conditions 
HiCare

 team

 will 

not 

move any heavy furniture

, 

has to be done by the client

 

We do 

not

 guarantee removal of old stains / hard sta

ins, ho

wever, 

we will try to remove it to the best of our ability without damaging the surface

 

Cust

omers are requested to provide 

Ladder, Water and Electric connection

 

Customers are requested to 

lock all valuables

 during the service

 

Bedroom Cupboards

 will cleaned internal

 

o

nly if they have been emptied by the owner before the service begins

) 

& Kitchen Loft

 will be

 

cleaned only 

e

xternally

 

Inaccessible areas

 are

 not

 covered in the scope

 of work

 
Safety Precautions
Building / Apartment Size / Unit
After 5% discount through online payment
Yearly service comes with year long protection assurance.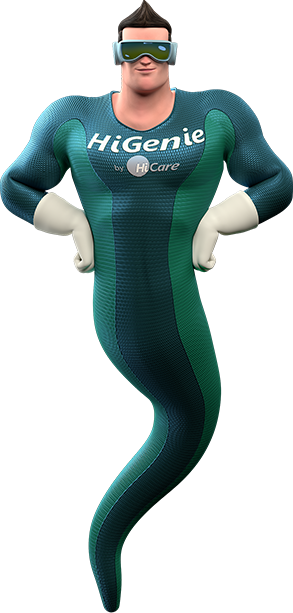 Being a housewife, I used to clean my house daily. However, I was still not able to clean the corners properly. With HiCare, my house now shines beautifully. Thank you!-Mrs. Reema, Delhi
I have always been fond of cleanliness and hygiene for my house. I had been on vacation for a long period. When I returned, I was shocked to see the amount of dirt due to a storm in my absence. By hiring services from HiCare, I was able to get my entire house cleaned properly in no time. Thank you! -Mrs. Geeta, Chennai
Our professionals are adept at delivering in-depth cleaning services. You can expect anywhere between 7-8 hours of detailed cleaning of each & every corner of the house. At the same time, it is also important to note that the total duration might vary depending on the amount of cleaning required and the size of the house.
In addition to covering all the accesible areas of your house, our hygiene experts would be doing a wiping of all the walls and ceilings provided the painted walls are washable. Along with wiping of walls, our hygiene experts would also clean the internal areas of your cabinets and cupboards provided they are emptied before the service.
Intensive cleaning is meant for the interiors of the house only. However, exterior cleaning can also be arranged by our experts separately. We can cover exterior areas separately, including patios, garden areas, open terraces, pathways, and so more.
Our expert team puts together complete efforts for removal of even the toughest stains. Still,we do not guarantee the removal of hard stains at the cost of damaging the surface. We do not guarantee the complete removal of old/hard stains in the process of cleaning. We will try to the best of our ability without damaging the surface.
India's leading digital hygiene company
16 years of legacy
Serviced 2 Lakh Homes & 1 Lakh commercial spaces
Present across 20+ cities & expanding
3-line of defence for Covid Protection
Premium clientele